Shouldn't Have to Say Green Tatyanth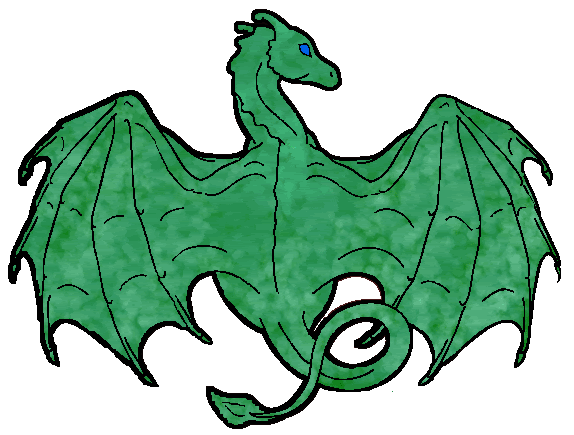 Expressive eyes dominate first impressions, set off by stately forest shades with their brilliant depths highlighting the scattered flecks of smooth emerald that adorn this slender, fine-boned green. Sleek musculature is evident throughout the elegant lines of her body, regal from her sculpted muzzle to the tips of dainty talons. Sensitivity is also plain to see, the little shifts of her verdant paws and flicks of her long, gem-touched tail often betraying her thoughts and moods, graceful limbs painted with mermaid's patterns in malachite. However, the dominant hue is a wash of sea-greens, whipped to frothy bubbles over slim flanks, sea-foam lingering on slight neckridges while waves of pale and watery greens sway beneath the speckles of dark sea-serpent shades. True serpentine greens slide up her wingspars, veining translucent wingsails and marbling their marine colors with ageless style.
---
Egg Name and Description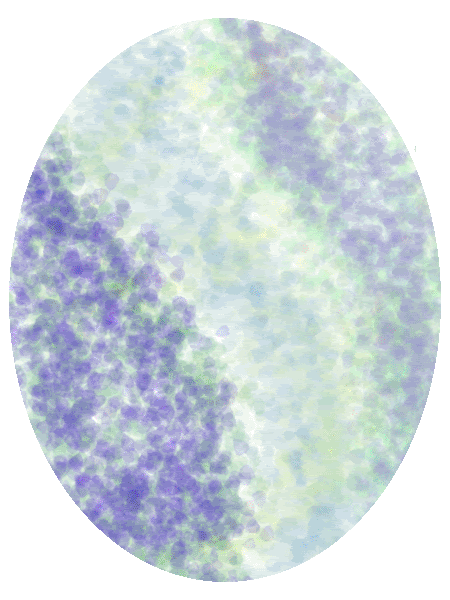 Garden Path Egg
Soft heads of mauve irises overhang a path that wends diagonally across a garden of which we see only this glimpse. The path is the blue of old stone, yet glimmers with pale gold sunshine that spills down it and lightens one side of heavy flowers. Violet and lavender, the big petals loom amidst and above streaks of softest jade like green and their counterparts on the shadowed side nestle closer in the greenery's protective embrace. Here deep purples meld with softer lilacs, heavy and pendulous with rounded forms holding a luscious grace across the thin streaks of leaves darkened to mossy hues by shade. Flecks of bright yellow embedded in the blossoms are pollen, a reminder of life's future.
---
Hatching Message
The irises of the Garden Path Egg shiver, as though a great wind were passing through them, and the old stones of the path suddenly buckle and quake. With a startling snap a web of cracks appears and the egg's shape distorts. A bulge at one end seems ready to burst, but then a sea-green wing joint slices through the membrane at the cracked middle of the shell and it shudders in reluctance to release it's concealed treasure. Another brief struggle, and the wingtip pulls back, a small green nose widening the hole until the egg at last splits into several chunks, damp dragonet struggling free of the shards.
---
Impression Message
The scent of violets is there, swirling about you in a heady cloud of joy as your gaze is caught, and held, by a gaze amazingly, impossibly, expressive. Her eyes — suddenly you /know/ what she's saying with her eyes. Something only you could understand, despite her open expression, for the two of you are suddenly one mind, one heart, one thought, together. Warmth floods your mind, a sensation of perfect rightness that is surely too much for one alone. But you are not alone and through the sweet outpouring of love, this is guaranteed forever more. Her unique fragrance seems to swirl within your being, delicate and elusive but present in every breath and heartbeat for those precious few seconds, colored graciously with a tourmaline hue that fill your vision as she speaks for the first time. Words are unnecessary, but the gentle voice comes, exultant and loving and tinged with awe all at once. « Aya, » she whispers, gifting you with your own new name before her own. « I am Tatyanth! »
---
Personality
Despite her regal appearance and graceful bearing, Tatyanth has nothing of haughtiness or formality about her. She's direct about what she thinks and what she wants, and is far more interested in learning about the fascinating world and making friends than in being admired. She can't help having a certain dignity about her, even in the most ridiculous situations, but she's quite happy to be ridiculous. No one's opinion but yours truly matters, and she is utterly confident of your love and approval. Vivacious is the word for her, as she eagerly pursues life — and she sees no reason why you should not be the same. If she finds a yearning in your mind, she will push you to pursue it, whether it's for a position at the Weyr or travel to the Yokohama or (perhaps to your embarrassment) a boy you're not ready to approach. She makes no distinctions between ranks or between dragons of bronze or brown or blue: she earnestly learns the nature of those she deals with on an individual basis. Though she hides little in the depths of her mind, being confident enough to express whatever she feels to whoever she's with whenever she feels like it, there's still a special bond to you, and things that only you and she can share. She understands the value of quiet time as well, often enjoying it if the two of you can find time to slip away and talk or simply share each other's company. As time goes on, her Flights become more intense and, above all, more sensuous. Every time there will be something new she'll try, some different step in her glorious sky-dancing. She tends not to be faithful: it's fairly likely that the same dragon will never catch her twice in a row. However, if a particular malerider is special to you, his dragon may catch her a bit more often. But still not all the time!
Curious and eager to try new things, Tatyanth is a dragon who just might find herself in over her head now and then. As a young dragonet, she won't naturally possess much control, and may be prone to excesses when it comes to food or exercise — it's up to you to know her limits and gently enforce them. She may occasionally try your patience with endless questions about /why/ things are as they are, or insist on hearing the story of your life and descriptions of everywhere you've been and everywhere you'll someday go. She has a rather good memory for a dragon, though, so once she's past the youngling stage she won't ask for endless repetitions of her bedtime stories — no, you'll have to come up with NEW things to tell her to keep that active mind entertained. As she matures and the attention of the males is drawn to her, she'll be a bit of a flirt, but never coquettish. She doesn't see herself as unusually beautiful or desirable — just herself, which is a fine thing to be, but not especially special. You, of course, know better — but she's not lacking in self-confidence, just in unbecoming pride.
Given her forthright nature, you'll probably be prepared by the time her first flight comes around. She's truly a green when it comes to flights. She'll challenge the males, of course, but not in anger or defiance. The flight is a seduction — but not of her, /by/ her. The most intriguing male will win, rather than the flashiest or biggest. Some of the winners may be truly unlikely dragons — in anyone's eyes but hers. Still, that very first Flight is a voyage of discovery as she tests just what she can do.
Why Abby?
Why? There was no other for her on those Sands. She was drawn to the inner depths that come from your past, your renewed optimism as you look toward the future. She thinks she's just the one to help you realize your dreams, to keep nudging you toward them if you falter or doubt yourself. She's touched that you stood on the sands once and were brave enough to try it again, that you were steadfast enough to wait for her.
---
Mindvoice
Delicate Kisses of Sweet Violet
Contact with her mind is like touching a beam of light — bright, warm, surrounding, yet ethereal. Her mental voice is gentle — a sharp or irascible word from her would be truly unusual. Though she is very informal, and speaks her mind, there is still a draconic dignity to her diction from her first days of life on. She has quite a range of tones, from the softest whisper to exuberant 'shouts,' and if she hears enough singing she just might try to do it in your head. The mental colors that you sense with her voice are as subtle and varied as the shades of her eyes, and as the rapport between you deepens you'll learn that they actually are quite closely matched — shades of blue and green (particularly tourmaline) predominate when she's happy, and alarm or hunger can spark her mental tones to red and orange, though the words are clumsy compared to the fine gradations of color and mood she truly communicates. Sometimes the colors and the words intermingle to the point where simply watching her eyes is almost as complete a communication as speaking with her.
---
Inspiration
From the Russian name 'Tatyana', which means 'fairy princess'. In pronounciations, it comes closest to 'tat-ee-anth', although you may say it however you choose. It was chosen because that's what Tatyanth is - a princess.
Song Lyrics:
'What Took You So Long?' by Emma Bunton
Yeah, yeah, yeah
Oh talk to me, can't you see
I'll help you work things out
Oh don't wannabe your enemy
And I don't wanna scream and shout
Cos baby I believe in honesty
A man that's stong and true
I shouldn't have to say now baby
That I believe in you
What took you so long
What took you all night
What took you forever to see I'm right
You know I treat you so good
I make you feel fine
And no I'll never give it up this time
No, no, no
Oh you touched my heart, right from the start
You didn't know what to say
But honey understand, when you take my hand
Everything's okay
Cos baby I believe reality
It's never far away
I've had enough, so listen baby
I've got something to say
What took you so long
What took you all night
What took you forever to see I'm right
You know I treat you so good
I make you feel fine
You know I'll never give it up this time
What took you so long (what took you so long)
What took you all night (what took you all night)
What took you forever to see I'm right
You know I treat you so good (I treat you so good)
I make you feel fine (I make you feel fine)
You know I'll never give it up this time
No, no, no
(No, no, no)
Oh whoa
No, no, no (no, no, no)
Oh whoa
Baby I believe in honesty
A man that's stong and true
I shouldn't have to say now baby
That I believe in you
What took you so long
What took you all night
What took you forever to see I'm right
You know I treat you so good
I make you feel fine
You know I'll never give it up this time
What took you so long (what took you so long)
What took you all night (what took you all night)
What took you forever to see I'm right
You know I treat you so good (I treat you so good)
I make you feel fine (I make you feel fine)
You know I'll never give it up this time
No, no, no
---
Credits
| | |
| --- | --- |
| Name | Shouldn't Have to Say Green Tatyanth |
| Dam | Gold Frydath |
| Sire | Bronze Valenth |
| Created By | Qyh |
| Impressee | Abby |
| Hatched | January 26, 2002 |
| | Xanadu Weyr |
| | PernWorld MUSH |
---